Company info
| | |
| --- | --- |
| Company Name | KYOWA INDUSTRIAL CO., LTD. |
| Head Office | Sanjo city, Niigata pref., JAPAN. |
| Branch Office/Factory | Tokyo, Nagoya, Hiroshima |
| Tel | +81-256-34-4441 |
| Fax | +81-256-34-1168 |
| Web site | http://www.kyowa-ind.co.jp |
| E-mail | kumagai@kyowa-ind.co.jp |
| President | Manabu Iwafuchi |
| Established | 1963 |
| Capital | JPY 95,000,000- |
| Employee | 320 |
Product
Plastic Molds, Others
Category of Use
Automotive, Aerospace, Industry, Consumer
End Product
Plastic Injection/compression Mold
Feature
Kyowa has been focusing on developing new technologies and new molding methods. We work with customers' different requests to do things such as reduce part weight in thermoplastic or thermosetting plastics using new molding or manufacturing methods. We provide tryout machines for injection and compression, up to 4,000/4,200ton. Kyowa can support customers' development in many different ways with quality products made with innovative techniques. We have capacity to build from small/precision tool up to ultra-large size such as 150ton mold weight. We have oversea divisions in USA, Thailand, China and partner ship companies in the world for manufacturing and maintenance.
Dealing Results
2500L capacity container (tool weight 115 metric ton CFRP tool for automotive)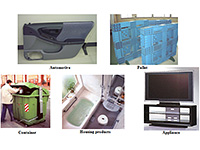 automotive、appliance、house products、container/pallet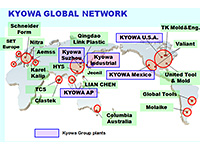 oversea division and partners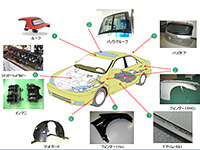 exterior parts for automotive(cfrp,smc)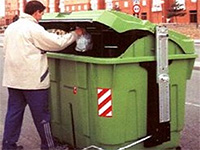 Heaviest & Largest injection tool in the world (215ton) made by Kyowa for use in Europe.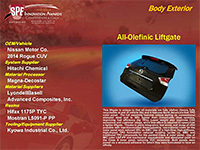 Kyowa is the tooling supplier for an award-winning lift gate/back door mold.
↑ Page top